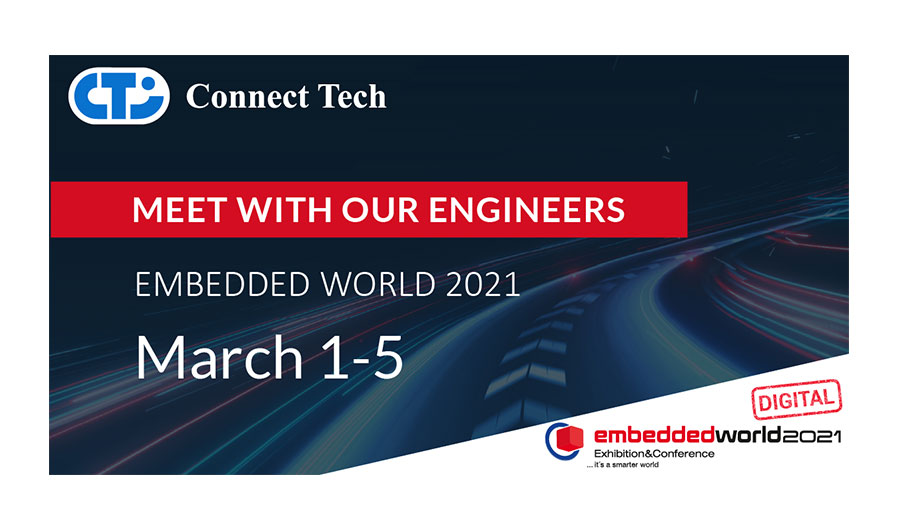 Embedded World 2021 Digital
Embedded World 2021 has gone digital! Join us to discover what exciting new embedded products are available. We'll be showcasing the latest and greatest solutions for NVIDIA Jetson, Quadro and Intel products. This year we'll be highlighting state-of-the-art fog and edge computing technology, as well as new AI vision solutions that offer seamless integration of sensors from the industry's top vision providers.
We're offering the opportunity to connect directly with our engineers, where you can discuss your application in detail and learn about potential solutions for your specific design requirements.

Don't miss Connect Tech in unique Exhibitor Forum presentations
Accelerating Deployment of Edge AI Systems with NVIDIA Jetson
Edge AI and autonomous machine designs are no longer constrained by lengthy product development cycles. The NVIDIA Jetson platform offers small form factor embedded GPUs that present ideal size vs. power capabilities for AI projects. Join Connect Tech, NVIDIA's largest Jetson hardware provider, to learn how to reduce application development time by harnessing the power of this innovative embedded platform.
Integrating Vision Sensors into your NVIDIA Jetson Edge Application
Since the inception of NVIDIA's Jetson platform, the capabilities of Edge AI Vision-Enabled systems have grown. Finding solutions to easily integrate vision sensors within embedded hardware has often has led to lengthy product development cycles and additional software requirements. This session will explore how various sensor technologies can be integrated into embedded hardware built for the Jetson platform, and how to reduce overall development time. Join NVIDIA Jetson Experts as they discuss the top vision providers in the Jetson ecosystem, various camera technologies and how to overcome common camera integration challenges allowing for rapid deployment of AI vision-enabled applications.
Hosted by Embedded Computing Design
Deploying Powerful Fog Compute Systems with Integrated NVIDIA and Intel Technology
The capability to deploy advanced AI programs within mobile, robust devices is now a reality. By combining the latest generation of CPU and GPU technology, processing huge data payloads in remote and mobile locations is now possible. Join Connect Tech, NVIDIA's largest Jetson hardware provider, to learn more about the latest generation of NVIDIA's embedded MXM formfactor GPUs, and how they can be combined with state-of-the-art Intel CPUs for rapidly deploying advanced AI programs.