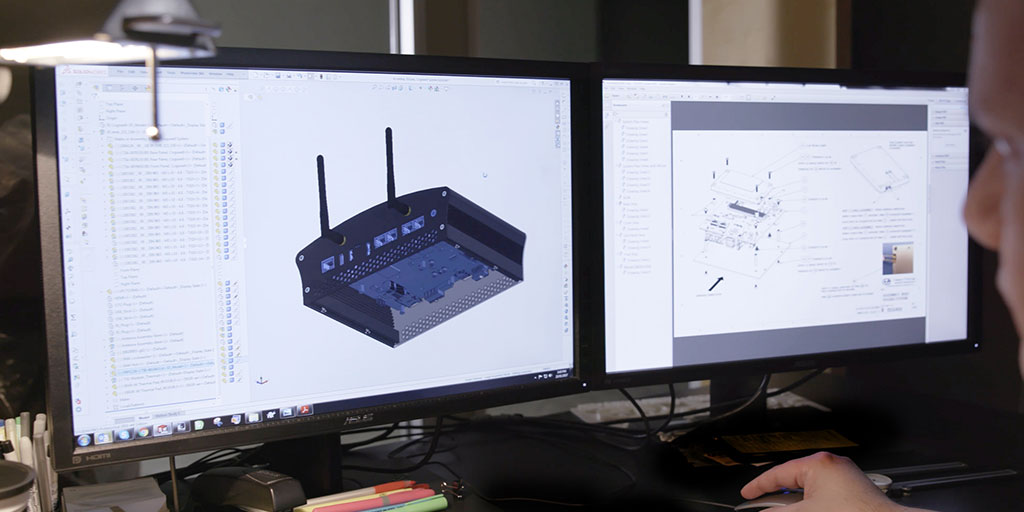 Connect Tech designs leading-edge technology for some of the world's most influential companies. We're looking for a junior-level Mechanical Designer/Engineer who has a passion for intricate designs, some experience in the field, and a desire to continuously learn and improve. Alongside our line of standard computing technology, Connect Tech has a thriving engineering services team that develops customized technologies for a variety of industries.
Our growing custom design business allows our engineers to architect purpose-built hardware solutions covering a broad range of applications. As a member of our Mechanical Engineering team, you'll interface with some of the largest names in the electronics industry providing solutions for Unmanned Systems used in ground, air and sea, security, finance, defense – just to name a few.
You will work alongside a diverse and talented group of mechanical and hardware engineers/designers, software developers, technical support, sales, marketing, and admin individuals as we continue to break new ground in the embedded computing industry.
What We Offer
We work within a high-tech, leading-edge technology that powers some really cool applications! (Robots, Drones, Artificial Intelligence, Vision Systems)
We're a dynamic and energetic company with a friendly community atmosphere
We value the contributions and ideas of our staff, and are proud of our extremely low turnover rate throughout our 35+ year history
Our employees are passionate about their work and the embedded industry, and are always looking for ways to propel Connect Tech to the next level
We offer competitive salaries, an attractive profit-sharing program, a comprehensive benefits package and a casual business dress code
Check out our corporate video to see what we're all about!
The Mechanical Designer will join our team with:
A desire to work in a high energy, fast paced environment
Exceptional problem solving skills
The ambition to learn new skills
Ability to meet tight deadlines
Self-motivated, team minded "we can build that" attitude
The Mechanical Designer is responsible for:
Design of enclosure systems and thermal solutions from concept to production of commercial, industrial, rugged, and military electronics
All aspects of the design process including the creation of 3D CAD models, 2D CAD drawings, and assembly drawings
Building prototypes and special-order in-house product builds
Full manufacturing documentation including Bill of Materials and Assembly instructions
Working with a team of electronic engineers/designers
Interacting with customers during the development process
Interacting with suppliers and fabricators both local and off-shore during all phases of product development and manufacturing
The Mechanical Designer will have:
Up to 3 years' experience in mechanical design of electronic enclosures
Up to 3 years' experience designing in SolidWorks
Knowledge in design for sheet metal, CNC machined, extruded, die cast, and plastic parts
Hands on experience with assembly tools (screw drivers, torque drivers, etc.)
Understanding of materials, finishes, and hardware
Understanding of MIL, DoD, Ingress, UL, RoHS/WEEE standards and compliances
The Mechanical Designer's nice to have:
Thermal simulation analysis
Industrial design
Machine tools (CNC, drill press, etc.)
If you're interested in working for a fast-growing company who highly values its employees, we want to hear from you!
For over 35 years, Connect Tech has built a solid reputation providing high-performance computing solutions for some of the world's most influential companies. As NVIDIA's largest hardware partner, Connect Tech's products are used in state-of-the-art technology on land, sea, sky, and space. With leading-edge design and manufacturing services backed by stellar technical support, our commitment to excellence in design and customer satisfaction is the driving force behind our success.
If you are interested in joining our team please submit your resume in PDF format to the application form linked below.