Guelph, Ontario, March 2, 2017 – Connect Tech is proud to announce the release of the first, commercial-off-the-shelf, COM Express® Type 7 Carrier Board to the Embedded market. This carrier board is based on the PICMG COM Express COM.0 R3.0 Type-7 specification, which brings multi-core, Server Grade Processors into the COM Express space as well as 10GbE interfaces essential for edge computing.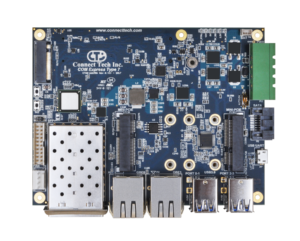 The COM Express Type 7 Carrier Board provides 2x 10G Ethernet interfaces via SFP+ cages which can be used as fiber or copper depending on the selected transceiver modules. Additional features include 2x GbE ports (RJ45), 4x USB 3.0, full and half size Mini PCIe expansion slots, console connection via Micro USB, 8x 3.3V buffered GPIO, and ultra-high speed storage with M.2 NVMe SSD support.
"We pride ourselves on being early adopters of new technologies and industry standards as well as continually growing our off-the-shelf computer-on-module carrier board portfolio," states Michele Kasza, Vice President Sales and Marketing. "Our newest addition for Type 7 is built in the tradition of all Connect Tech carriers which means we have taken an agnostic design approach in order to support all of the major COM Express module vendors."
It's important to note that the new COM Express Type 7 specification is not a replacement for the popular Type 6 standard. Type 7 removes all audio and video interfaces in order to provide up to 4 x 10GbE ports and more PCI Express connectivity. This new specification and our carrier board are ideal for high-compute, enterprise level applications that have a need for a small form factor rugged solution providing access to high-speed Xeon D class processors.
See the COM Express Type 7 Carrier Board on display at Embedded World from March 14-16 at Hall 2, Stand 318 in Nuremburg, Germany.
About Connect Tech Inc.:
For over 30 years, Connect Tech has built a solid reputation for expertise in providing professional design services, delivering unsurpassed technical support and developing innovative products for embedded applications. Our products include commercial off-the-shelf and modified solutions for NVIDIA Embedded GPUs, COM Express®, Qseven, SMARC Carriers, Single Board Computers, Rugged Tablets, Cellular/Satellite M2M, FPGA, Digital & Analog I/O, Power Supplies, Enclosures, CAN Controllers, Solid State Drives, Ethernet-to-Serial, Multi-port Serial Cards, Adapters & Development Tools.