Embedded World, Germany, March 14, 2017 – Connect Tech adds the SMARC 2.0 Carrier Board to its extensive line of commercial-off-the-shelf carrier boards. This small form factor SMARC carrier board is ideal for low power IoT and multimedia applications. The new computer-on-module standard SMARC 2.0 adds USB 3.0, a second channel for LVDS, second channel for Ethernet, a fourth PCI Express lane, extra USB 2.0 ports, integrated WI-FI and much more.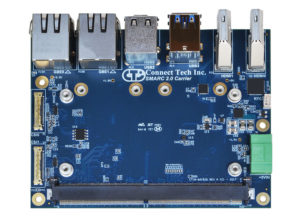 Connect Tech's 2 SMARC 2.0 carrier board has 2x USB 3.0 ports, 3x USB 2.0 ports, dual full size MiniPCIe slots for IO expansion or storage. Additionally, this carrier offers 2x MIPI CSI-2 camera interfaces, HDMI outputs and SATA with support for the latest generation Apollo Lake x86 low-powered processors. This carrier has also been designed for an extended temperature range of -40°C to +85°C.
"Connect Tech prides itself on providing commercial-off-the-shelf carrier board solutions for a wide range of industry standards, adding support for SMARC 2.0 rounds out or computer-on-module offering," said Michele Kasza, Vice President Sales and Marketing at Connect Tech.
See the SMARC 2.0 Carrier Board on display at Embedded World from March 14-16 at Hall 2, Stand 318 in Nuremburg, Germany.
About Connect Tech Inc.:
For over 30 years, Connect Tech has built a solid reputation for expertise in providing professional design services, delivering unsurpassed technical support and developing innovative products for embedded applications. Our products include commercial off-the-shelf and modified solutions for NVIDIA Embedded GPUs, COM Express®, Qseven, SMARC Carriers, Single Board Computers, Rugged Tablets, Cellular/Satellite M2M, FPGA, Digital & Analog I/O, Power Supplies, Enclosures, CAN Controllers, Solid State Drives, Ethernet-to-Serial, Multi-port Serial Cards, Adapters & Development Tools.