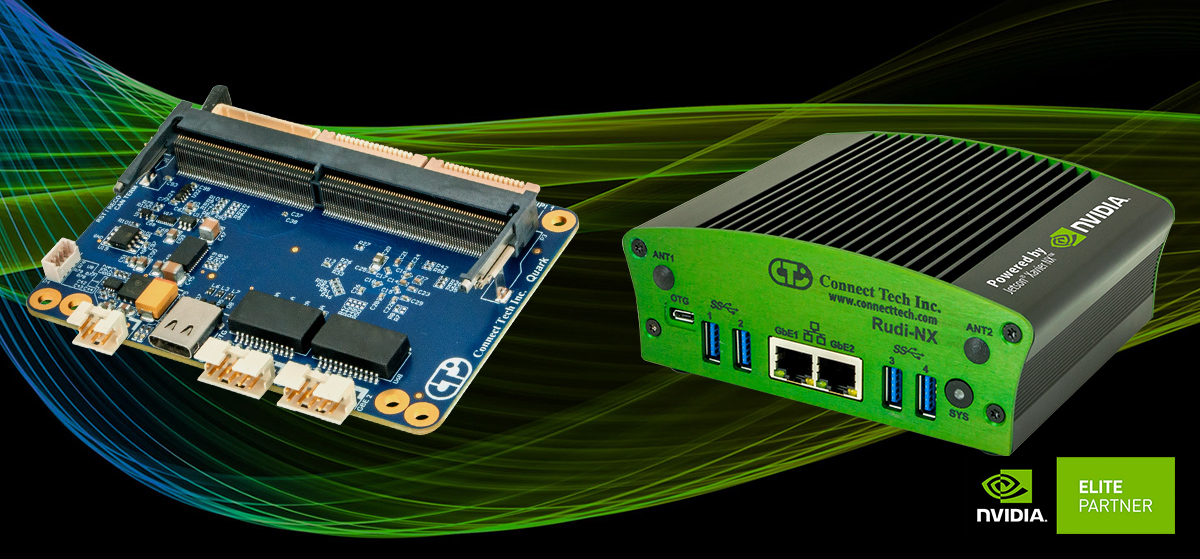 Connect Tech, an NVIDIA Elite Partner within the NVIDIA Partner Network, today announced it is offering three NVIDIA Jetson® Xavier™ NX solutions for bringing AI embedded computing devices to the edge. The company's newly launched Rudi-NX, along with its new Quark Carrier Board and Photon Carrier Board, provide Jetson users with platforms that will enable them to get to market the moment their development is complete. These are off-the-shelf solutions available in any quantity. Both the Photon and Quark carrier boards also support the NVIDIA Jetson Nano™ platform.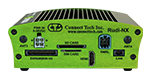 The Rudi-NX is ideal for the Jetson user looking for a small AI edge supercomputer. Rudi-NX, powered by the Jetson Xavier NX, delivers up to 21 TOPS at just 15W, capable of running multiple neural networks in parallel and processing data from multiple high-resolution sensors simultaneously. At just 135mm x 50mm x 105mm, the Rudi-NX delivers 2 x GbE, 4x USB 3.0, 1x USB OTG, SD card, optional GMSL, storage expansion via NVMe, wireless expansion, miscellaneous I/O including I2C, TTL, RS-485, SPI, PWM, GPIO, CAN, as well as wide input power range of 9-36V DC. Click here for more information on Rudi-NX.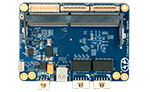 The Quark Carrier Board is an ultra-small form factor design, just slightly larger than the credit-card sized Jetson Xavier NX module measuring 82.6mm x 58.8mm. This carrier board has a feature-rich I/O set, including 1x USB 3.1, 2x GbE, 2x 2-lane MIPI CSI-2, 1x USB OTG, 1x microSD card slot, 3x 3.3V UARTs, 2 x I2C, 1x CAN 2.0b, and 1x SPI as well as positive-locking I/O connectors optimized for rugged environments. The Quark Carrier Board will also support the Jetson Nano module. Click here for more information on the Quark carrier.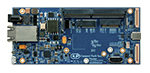 The Photon Carrier Board is a Jetson AI camera platform specifically designed to support smart camera applications. Photon offers a PoE PD Gigabit Ethernet uplink for data and power and has various I/O connectors positioned to seamlessly interface with a range of cameras. Additional key features include 1x GbE, 1x NVMe (M.2 M-Key), 1x microSD, 4x GPIO, I2C, USB Console/UART, USB OTG for programming as well as dual MIPI (stereo) inputs. Click here for more information on the Photon carrier.
"Connect Tech continues to lead the way in providing readily available Jetson platforms to the community, however we believe it is our tremendous Jetson support where our real value lies," said Michele Kasza, Vice President of Sales & Marketing at Connect Tech. "Anyone using Connect Tech hardware has access to our team of Jetson experts ensuring a successful development to deployment experience."
Connect Tech has been supporting the NVIDIA Jetson platform since February 2016. The NVIDIA Jetson family of products provides the performance and power efficiency to run autonomous machines faster and with less power in a compact form factor, bringing the power of modern AI, deep learning, and inference to embedded systems at the edge.