Munich, Germany, October 9, 2018 – Connect Tech releases two new product offerings for NVIDIA® Jetson™ AGX Xavier™: Mimic – NVIDIA Jetson Xavier Adapter, and Rogue Carrier for NVIDIA Jetson Xavier.
The Mimic Adapter from Connect Tech allows the NVIDIA Jetson AGX Xavier module to be installed onto an NVIDIA Jetson TX2/TX2i/TX1 carrier. The Mimic Adapter is ideal for NVIDIA Jetson users who want to easily compare performance or upgrade their existing TX2/TX2i/TX1 designs to the new Jetson Xavier.
This small form factor adapter solution integrates easily onto any existing carrier board in Connect Tech's Jetson TX2/TX2i/TX1 product line, as well as any custom platform. Enables a giant leap forward in capabilities for autonomous machines and edge devices.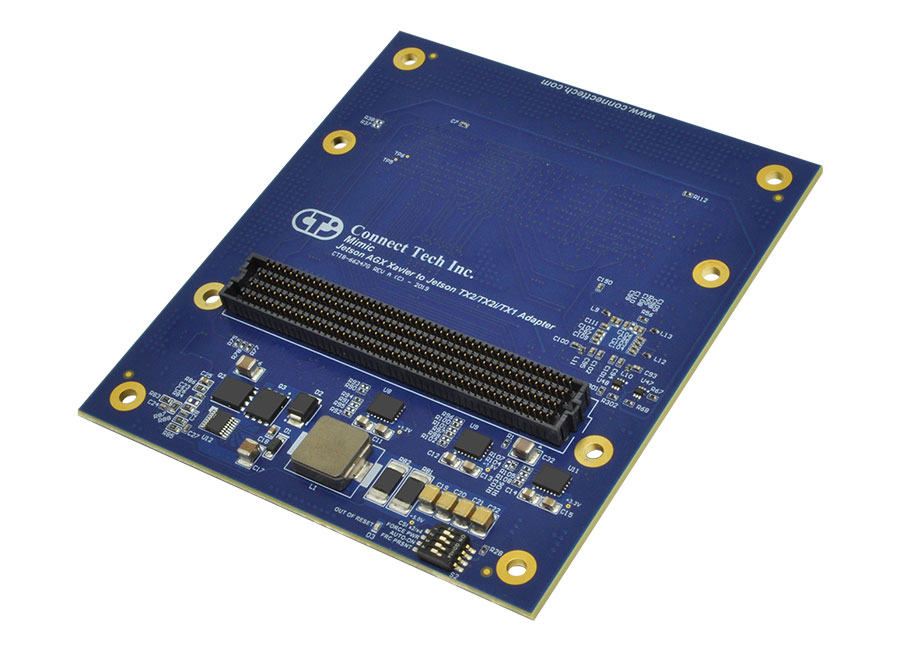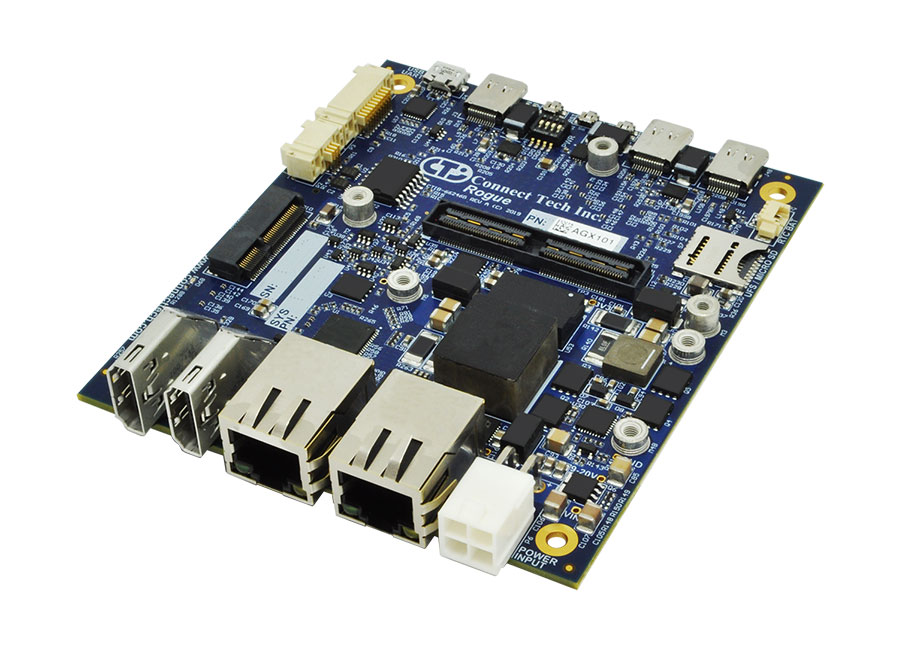 Connect Tech's Rogue Carrier for NVIDIA Jetson AGX Xavier is a commercially deployable, full featured carrier coming in just slightly smaller than the Xavier module at 92mm x 105mm. The Rogue Carrier provides access to the impressive list of latest generation interfaces on the Xavier while adding additional interfaces of 3x USB 3.1, 2x GbE, 2x HDMI and locking Mini-Fit Jr. power input connector. Rugged camera add-on expansion boards will also be available for use with the Rogue to interface directly with the Xavier high density MIPI CSI interfaces.
The NVIDIA Jetson AGX Xavier has an impressive 512-core Volta GPU and 64 Tensor cores with discreet dual Deep Learning Accelerator (DLA) NVDLA engines. The platform offers 20x the performance and 10x the power efficiency of the Jetson TX2. The new module supports an increase in bandwidth, performance, and introduces USB 3.1 and PCIe Gen 4.0.
"The Jetson Xavier is an exciting release and just as we supported the TX2/TX2i/TX1 with a wide range of commercial off the shelf and custom solutions, we have full intentions for doing the same for the Jetson Xavier," says Michele Kasza, VP of Sales and Marketing.
Connect Tech's Mimic Adapter and Rogue Carrier will be on display at GTC Europe from October 10 to October 11 at Stand E.21 in Munich, Germany.
About Connect Tech Inc.:
For over 30 years, Connect Tech has built a solid reputation for expertise in providing professional design services, delivering unsurpassed technical support and developing innovative products for embedded applications. Our products include commercial off-the-shelf and modified solutions for NVIDIA Embedded GPUs, COM Express®, Qseven, SMARC Carriers, Single Board Computers, Rugged Tablets, Cellular/Satellite M2M, FPGA, Digital & Analog I/O, Power Supplies, Enclosures, CAN Controllers, Solid State Drives, Ethernet-to-Serial, Multi-port Serial Cards, Adapters & Development Tools.