Introduction
The NVIDIA Jetson TX2 module is the latest AI supercomputer on a module, powered by NVIDIA Pascal™ architecture. The TX2 packs significant performance into a small, power-efficient form factor that's ideal for intelligent edge devices like robots, drones, smart cameras, and portable medical devices. It supports all the features of the Jetson TX1 module while enabling larger, more complex deep neural networks.
Connect Tech has now developed 6 different carrier board products to support the NVIDIA Jetson TX2 and TX1 modules. Three of these carrier boards were designed and released prior to the release of the NVIDIA Jetson TX2 module, and with the release of the TX2 module came some architecture changes to underlying interconnect of the high-speed lanes.
This means that some of CTI's carrier boards that were designed before the TX2 release, will be undergoing PCB hardware revisions to fully support both the TX2 and TX1 architectures.    These previous hardware revisions will still function with both the TX2 and the TX1 modules, but this KDB will serve as a compatibility reference to detail what features can actually be used in a user's end application.
Background on NVIDIA TX1 to TX2 Module Architecture Changes
The major change effecting compatibility between the NVIDIA Jetson TX1 and TX2 modules pertains to the high-speed lane mapping on the TX2 module.  As shown below the NVIDIA Jetson TX1 module has 6 dedicated lanes sourced directly from the TX1 IC.  Where now the NVIDIA Jetson TX2 module only has 5 lanes sourced from the TX2 IC, so that now the use of the USB_SS0 and PEX1 lanes are mutually exclusive.
NVIDIA Jetson TX1 Module High-Speed Lane Mapping Overview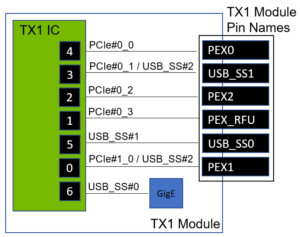 NVIDIA Jetson TX2 Module High-Speed Lane Mapping Overview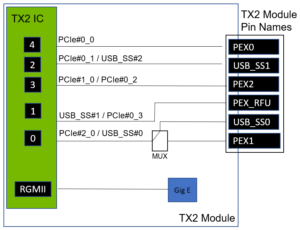 CTI NVIDIA Jetson Carrier Board Products Compatibility Table
TX1 Module
Compatibility Status
TX2 Module
Compatibility Status
Astro
PN: ASG001
Full compatibility
CTI-L4T-V011
All PCB Revisions
Partial compatibility
CTI-L4T-V100 and greater
PCB Revision F and earlier
PCB Revisions G and later will have
Full compatibility
Elroy
PN: ASG002
Full compatibility
CTI-L4T-V011
All PCB Revisions
Partial compatibility
CTI-L4T-V100 and greater
PCB Revision E and earlier
PCB Revisions F and later will have
Full compatibility
Orbitty
PN: ASG003
Full compatibility
CTI-L4T-V011
All PCB Revisions
Full compatibility
CTI-L4T-V100 and greater
All PCB Revisions
Spacely
PN: ASG006/ASG009

Full compatibility
CTI-L4T-V011
All PCB Revisions
Full compatibility
CTI-L4T-V100 and greater
All PCB Revisions
Cogswell
PN: ASG007
Full compatibility
CTI-L4T-V011
All PCB Revisions
Full compatibility
CTI-L4T-V100 and greater
All PCB Revisions
Sprocket
PN: ASG008
Full compatibility
CTI-L4T-V011
All PCB Revisions
Full compatibility
CTI-L4T-V100 and greater
All PCB Revisions
Partial Compatibility Details
Astro (PCB Revisions F and earlier)
TX1 Module
TX2 Module
(usb3 Profile)

TX2 Module
(mpcie Profile)

CTI-L4T Version
CTI-L4T-V011
Based on R24.2.1
CTI-L4T-V100 and greater
Based on R27.1
CTI-L4T-V100 and greater
Based on R27.1
JetPack flash profile name
n/a
astro-usb3
astro-mpcie
CTI Pre-Flashed Jetson Module PN
CMG503
CMG503-21
N/A
* not used as a shipping config
USB 3.0 Port 0 (P6)
(Using USB_SS0/Lane 6)

Enabled

Enabled

Disabled

Mini PCIe Slot (P4)
(Using PEX1/Lane 0)

Enabled

Disabled

Enabled

All other features and functions

Enabled

Enabled

Enabled
Elroy (PCB Revisions E and earlier)
TX1 Module
TX2 Module
(usb3 Profile)
TX2 Module
(mpcie Profile)
CTI-L4T Version
CTI-L4T-V011
Based on R24.2.1
CTI-L4T-V100 and greater
Based on R27.1
CTI-L4T-V100 and greater
Based on R27.1
JetPack flash profile name
n/a
elroy-usb3
elroy-mpcie
CTI Pre-Flashed Jetson Module PN
CMG503
CMG503-21
N/A
* not used as a shipping config
USB 3.0 Port 0 (P10)
(Using USB_SS0/Lane 6)

Enabled

Enabled

Disabled

Mini PCIe/mSATA Slot (P9)
(Using PEX1/Lane 0)

Enabled

Disabled

Enabled

All other features and functions

Enabled

Enabled

Enabled
Means of Distinguishing CTI NVIDIA Jetson Carrier Board Revisions
Revision Text Location
Revision Text Close Up
Astro
PN: ASG001
 
Elroy
PN: ASG002
Orbitty
PN: ASG003
Spacely
PN: ASG006/ASG009

Cogswell
PN: ASG007
Sprocket
PN: ASG008