Guelph, Ontario, April 24, 2018 – Connect Tech's NVIDIA® Jetson™ solutions now support the recently released NVIDIA Jetson TX2i module. The Jetson TX2i module provides high reliability in harsh environments. The module offers an extended operating temperature range (-40°C – 85°C), support for ECC memory, a long operating life (MTBF), as well as an extended 10 year life cycle. Ideal for high performance edge computing, the TX2i can be used with industrial robots, machine vision cameras and portable medical equipment.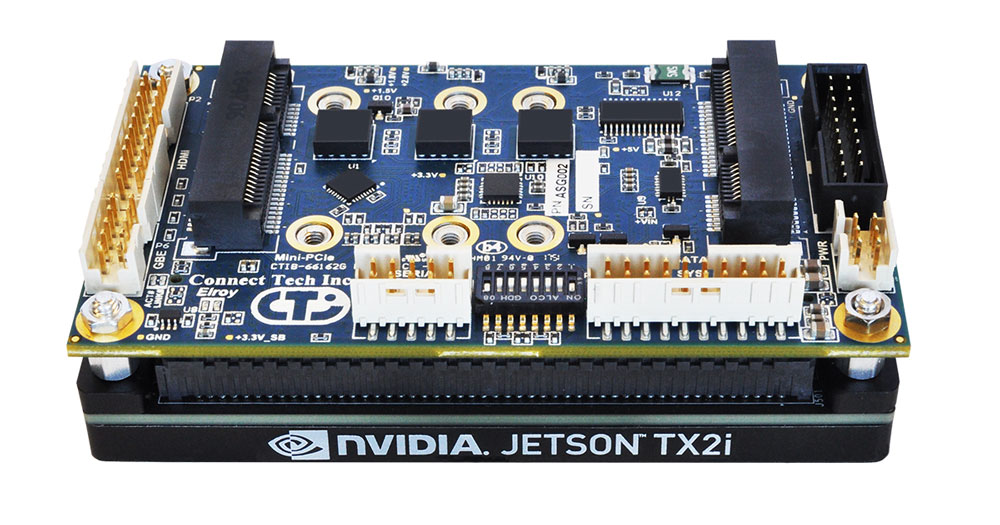 Connect Tech has validated the Jetson TX2i across its full line of Jetson solutions and can immediately offer TX2i support on all carrier board offerings (Astro, Elroy, Orbitty, Sprocket, Spacely and Cogswell). In addition to carrier board support, we are proud to announce that Rudi, Rosie, and Cogswell Vision System have been validated and are also available with TX2i support.
"Ensuring support for TX2i has been a priority for Connect Tech since its announcement," says Michele Kasza, Vice President of Sales. "A large segment of our customer base has a need for long life cycle along with ruggedized computing; this customer set has embraced the Jetson TX2/TX1 and can now go to market with the TX2i knowing their needs are met."
Jetson TX2 and Jetson TX2i Comparison
Feature
Jetson™ TX2
Jetson™ TX2i
Shock
140G, 2ms
140G, 2ms
Vibration
10Hz ~200Hz, 1g & 2g RMS
Random: 5g RMS 10 to 500Hz
Sinusoidal: 5g RMS 10 to 500Hz
Temp Range
-25°C - 80°C
-40°C - 85°C
Humidity
85°C / 85% RH, 168 hours
-10°C to 65°C / 95% RH, 240 hours
Operating Life
5 Years
(GB at 35C: MTBF=1,747,520 hours
GF at 35C: MTBF=1,066,851 hours)
10 Years
(GB at 45C: 2,505,155 hours Rt=0.9656
GF at 45C: 1,254,624 hours Rt=0.9326)
Misc Env Testing
N/A
Mixed gas flow; dust settling; free fall drop
TDP
15W
20W
Table Source: https://developer.nvidia.com/embedded/faq#jetson-differences-tx2i
Connect Tech will display its NVIDIA Jetson solutions at XPONENTIAL 2018 in Denver, CO from May 1-3 at Booth 3619.
To explore our NVIDIA Jetson solutions, visit: https://connecttech.com/product-category/form-factors/nvidia-jetson-tx2-tx1/
About Connect Tech Inc.:
For over 30 years, Connect Tech has built a solid reputation for expertise in providing professional design services, delivering unsurpassed technical support and developing innovative products for embedded applications. Our products include commercial off-the-shelf and modified solutions for NVIDIA Embedded GPUs, COM Express®, Qseven, SMARC Carriers, Managed Ethernet Switches, Single Board Computers, Rugged Tablets, Cellular/Satellite M2M, FPGA, Digital & Analog I/O, Power Supplies, Enclosures, CAN Controllers, Solid State Drives, Ethernet-to-Serial, Multi-port Serial Cards, Adapters & Development Tools.